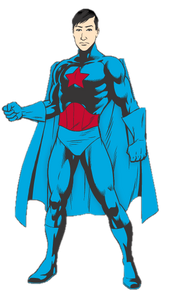 Starman is a superhero and the leader of the Gammas. He is one of the main protagonists of 
Godzilla: New Age of Monsters
. Starman is the husband of Starwoman and the father of Toby, Samantha, Mindy, and Bobby.
Personality
Edit
Starman believes that everyone deserves a second chance and would easily give up his life to save anyone. Starman also possess a moral code, he only fights if it's necessary and does not judge anyone, despite their character. Starman is loyal, brave, and wise. Starman cares for his family and enjoys having a family.
Heat Vision
X-Ray Vision
Regenerate Healing Factor
Flight
Super Strength
Relationships
Edit
Starwoman
Toby
Samantha
Mindy
Bobby
Tracey
Vanessa
Katie
Vicky
Black Dragon
Akiko
Nini
Shobijin
NightBird
Micro Bug
Ad blocker interference detected!
Wikia is a free-to-use site that makes money from advertising. We have a modified experience for viewers using ad blockers

Wikia is not accessible if you've made further modifications. Remove the custom ad blocker rule(s) and the page will load as expected.